Thank you!
2020 has been a tough year for everyone but I'd like to personally thank everyone who came back with avengence when the tracks re-opened after our COVID lockdown. Your ongoing support of our events has been amazing, so sincerly; thank you... As we head into the new year, Driving Events will again offer both road and performance drivers ongoing opportunities to have fun, learn and simply enjoy their pride and joy. Have a safe Christmas / New Year and look for to seeing you back in - 2021!
Feature Events in 2021
T4 - Tour & Track Targa Tasmania
Anyone ever contemplated driving the magnificent roads of Tasmania on a closed road following Targa Tasmania....? We have the answer! Following on from this years highly successful event, join us as we head down to take on Targa Tasmania in our specially prepared Supercharged V6 Lotus Exige. We're not asking you to compete but join the field in the Touring Section leading the competition field with the aid and guidance of our own appointed tour guide. Plus follow this up with a Track Day at Baskerville Raceway in Hobart, one of the countries best and most demanding short courses. Dates will be from 18th April to the 26th April 2021 so if this has grabbed your attention, set the dates aside, grab a partner to join you. Further details can be found HERE.
Tour Targa High Country
For the first major event in 2021 we head to Victoria, touring the scenic highlands around Mt Buller. This is the re-scheduled 2020 event moving from its traditional home of November to February 4th - 7th 2021.The event based in "Mt Buller" takes in all the fantastic surrounding roads around the Mansfield area as well as the spectacular Mansfield "street stage" and the epic run up Mt Buller.Places in the tour are very limited with a maximum of 10 cars so don't miss out! Further details can be found HERE

Tour Targa Great Barrier Reef
This event continues to grow so we plan to conduct another tour to take in some of QLD's finest roads. The community of Cairns is very supportive of this event even going to the trouble of shutting 3 of the major highways so we can enjoy our cars to their full potential. Details will be posted online soon! 2nd to the 5th September 2021
Tarmac Short Course Challenge and a NEW Challenge Series!

This year we have even more opportunities to blast around the DTC course at Lakeside in our Tarmac Short Course Challenge plus this year we are introducing an additional 6 "officially timed" events which will constitute our Tarmac Challenge Series. Point will be awared for each round based on consistancy to produce an overall champion. Trophies and prizes will be awared. (full details TBC). This is a great way to safely and inexpensively enjoy your car in a gymkhana style event and have bit of fun competing if you wish.
Track Test & Train Days
Half days on the QR National Circuit to offer a more exclusive day tailored around dedicated in car and video data coaching with optional timed sprints - STAY TUNED!
Regular Events
Of course we will be maintaining our regular array of Track events at QLD Raceway, Morgan Park and Lakeside plus we continually run Defensive Driving Courses, Skid Pan events and the Lotus and Radical Race Experiences.
Hopefully we will see many of your smiling faces back in 2021 which promises to be another huge year. All the best to you and your family for Christmas and have a great New Year!

Paul Stokell
Last Minute Gift Ideas? Grab a Gift Voucher!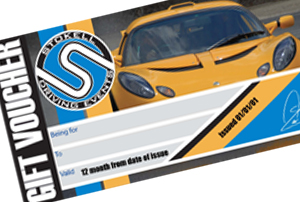 How about a gift Voucher from Driving Events - Choose from Defensive Driving Courses, Lotus Race Experiences, Radical Race Experiences, Track Days, Skid Pan or maybe some private 1 to 1 Coaching. Currently printing and emailed directy to your inbox right up to Christmas eve!

Click here to buy online

2021 Calendar

Our event calendar for 2021 is now up with more dates to be confirmed soon!

Check it out here

Christmas Hours
Driving Events will be officially closed from 18th December 2020 to the 8th January 2021. However gift vouchers will be processed right up to Christmas Eve.

Lotus Cars Queensland is open and here for you. We are the exclusive Lotus dealership for Queensland and the Northern Territory conveniently located across from IKEA – Springwood. Phone 07 3290 7000. Lotus owners can expect safe and sanitary 5-star treatment at the dealership during this environment with continuing sales and service support. With just 1 Lotus Elise Cup 250 Bathurst Edition available, we are offering at home services and vehicle valuations to keep up with your motoring needs.
To find out more or speak with one of our friendly staff, please call us on 3290 7000 or click the button below to book your appointment.