QLD Raceway Track & Training & Passenger Ride Invitation - Friday 3rd November 2023


Hi Visitor,
Our last Track Day at QLD Raceway for 2023. Where has the year gone! The usual format plus another passenger ride opportunity to be run immediately prior to lunch. Of course we will have the usual great in car training, woodfired pizza lunch and supurb coffee on offer. Book now..

Queensland Raceway Friday 3rd November 2023
Clubman Circuit - AM / Swithback Circuit - PM
Half Day AM 9.00am - 12.20pm (briefing 8.30am) - 3 x 20 min sessions "Clubman" $280.00

Half Day PM 1.00pm - 4.30pm - 3 x 20 min sessions "Switchback" $280.00 plus a possible bonus session on National Circuit (subject to time)
Full Day 8.30am - 4.30pm GREAT VALUE $510.00



Track & Training days consist of controlled 20 minute sessions rotating throughout the day. To reduce the hassle and distraction of lapping traffic, cars and drivers will be grouped according to speed and experience ensuring the safest and most enjoyable track sessions possible. Book online.
Most importantly we include free comprehensive in car driver instruction from experienced instructors. Don't waste your time going round in circles! Advice from professionals will advance your driving and help you set up your car to ensure you improve every time you hit the track.
New drivers will have access to a Performance Driving Briefing before being guided on track by our team of experienced instructors. All drivers will be welcome "and encouraged" to undergo complimentary in car instruction during the day and for those really serious about improving those lap times why not try dedicated 1 on 1 coaching. Join my experienced team of instructors which include, Steve Owen, Chris McCormack, Rob Hackwood, Matt Taylor, Josh Hunt, Melinda Price and many more special guest instructors to make appearances throughout 2023.
Passenger Rides
We will also be offering a 20min passenger ride session for this event so if you would like to show your spouse, partner, boss why you spend so much time & money tinkering with cars nows your chance! This session wil be run immediately before lunch. They will need to sign on and be fitted up with long sleeves, long pants, enclosed footwear etc. They will also require a helmet which will be available on loan if required. A guest fee for passengers will be appicable of $45.00pp allowing them access to rides, lunch and refreshments. Ride passengers can be booked at check out.
Catering
Included in day will be the usual fantastic espresso coffee provided by "The Powerstation Co", fully catered woodfired pizza lunch and all refreshments. Guests are welcome but must be pre-booked to have lunch included in their guest fee. Please specify any dietary requirements at time of booking.
Book Online or call Paul on 0419 549122 to confirm your position.



Don't want the hassle and expense of taking your own car on track? Come and experience the sheer thrill and exhilaration of piloting one of the ultimate track cars – the Lotus Exige.
Lotus Race Experience –
Lotus Exige Hot Laps – 3 laps - $165.00
5 Lap Lotus Race Experience - $245.00
Lotus Exige 8 Lap Combo - $380.00
10 Lap Lotus Race Experience - $460.00
30 Lap Lotus Race Experience - $1350.00




Come and drive our Championship winning car. Flick the starter, pull back on the right steering wheel paddle and blast off for an absolutely unforgettable driving experience in one of the fastest production sports racers in the world.
Radical Hot Laps $220.00
Radical 5 Lap Experience $345.00
Radical 8 Lap Combo (Drive 6 – Hot Lap 2) $545.00
Radical 8 Lap Experience $545.00

Book Online or call Paul on 0419 549122 to confirm your position.
Also available: MSA (Observed Licence Testing), Vehicle set up & engineering service



GIFT VOUCHERS
Don't forget. With Christmas just around the corner drop the hint, leave this invite open or whatever means works to ensure you have a Driving Events Gift Voucher under the tree!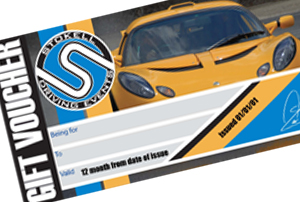 Stokell Driving Events
M: 0419 549122
E: paul@drivingevents.com.au
You are subscribed to our mailing list as
Unsubscribe